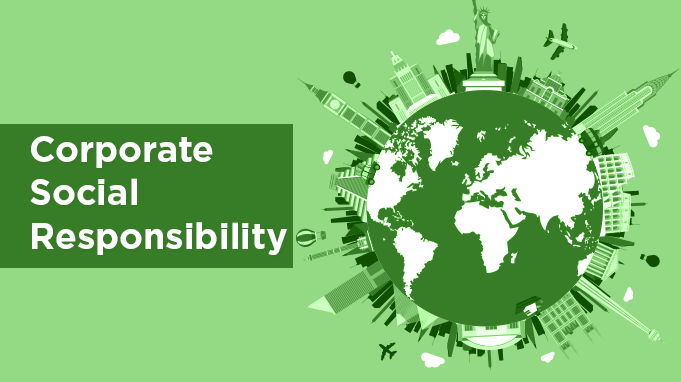 Corporate Social Responsibility: Fostering Leadership and Effective Management
In the world of business, the concept of Corporate Social Responsibility (CSR) has gained significant prominence. But what does it indeed mean for a company to exhibit social responsibility in its managerial practices? Management of social responsibility and leadership not only boosts productivity and helps businesses to work on the concerns of their employees, customers, and other necessary stakeholders.
In this blog, we will discuss how Corporate Social Responsibility fosters leadership and effective Management.
Corporate Social Responsibility as Business Model
Embracing CSR entails assuming accountability for the societal and environmental impact of business operations. No longer is it solely a respected business practice; it has transformed into a consumer-driven demand. But what exactly does corporate social responsibility entail?
At its core, CSR defines the business model and the level of responsibility that companies should uphold to generate a positive impact on the world. This comprehensive model delineates how a company can be answerable to itself, its workforce, stakeholders, the public, and both the global and local environments.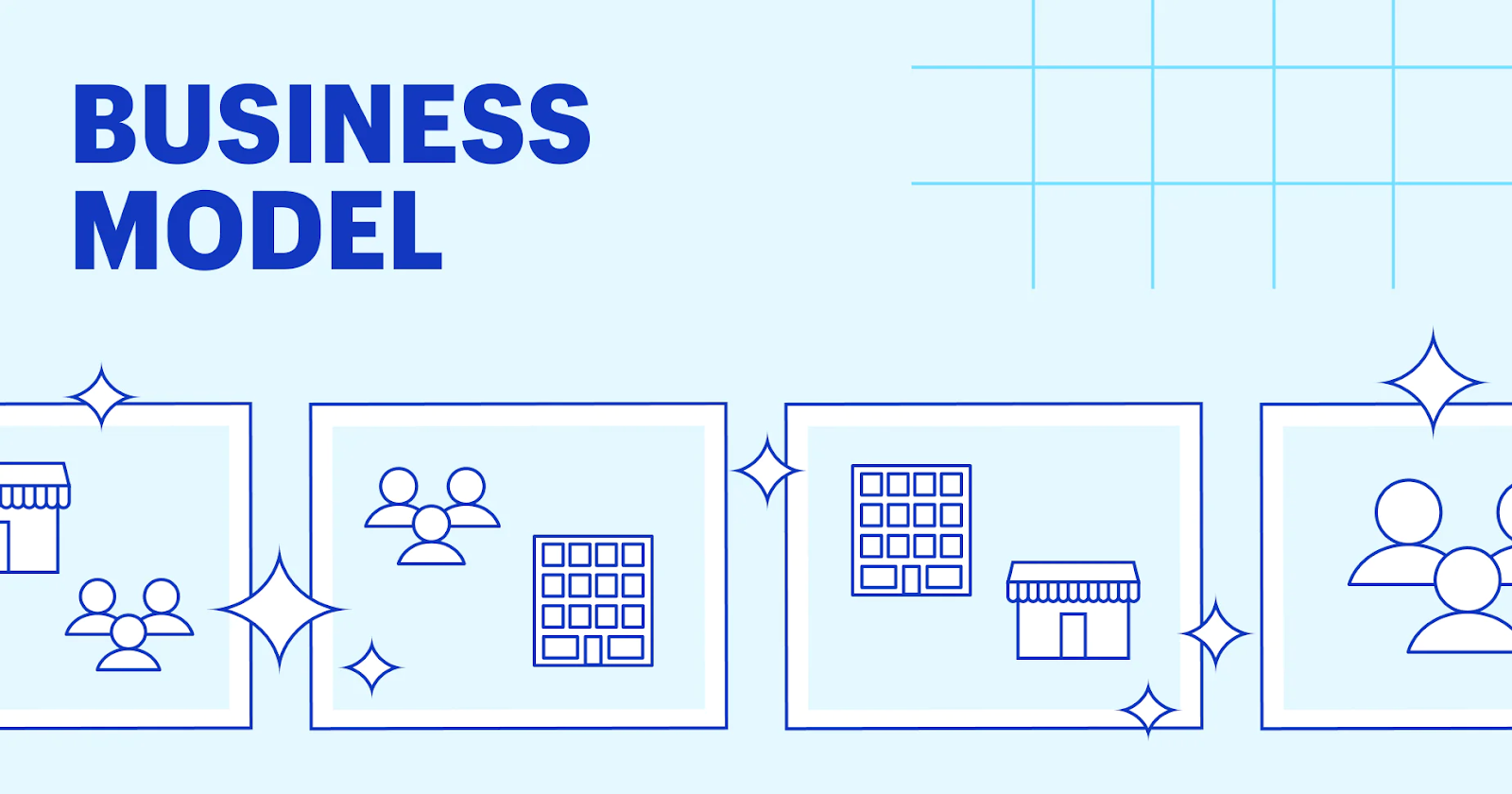 Adopting a CSR model encompasses more than just environmental and social contributions; it also cushions a business's reputation. As society grows increasingly consumer-conscious, consumers are actively opting for businesses that prioritise social responsibility. Moreover, CSR practices foster higher employee morale, as both workers and employers derive a greater sense of purpose from their work.
Understanding the most effective methods of implementing a CSR model has become indispensable for individuals aspiring to thrive in the business panorama.
Corporate Governance with Leadership and Management
Corporate governance serves as a vital aspect of corporate social responsibility and leadership. This holistic concept transcends mere management of routine tasks within a company. Corporate governance entails ensuring that all policies and processes align with ethical standards. For instance, many companies enlist external auditors to review their financials and provide advice on transparently communicating sensitive information to the public.
Similarly, legal consultants offer guidance on ethical human resources practices, while customer focus groups enable businesses to remain in tune with consumer needs and desires. Corporate governance, therefore, necessitates responsibility not only towards the company's profit generation but also its commitment to conducting fair practices that refrain from exploiting people or the environment for undue gains.
Effective leaders demonstrate accountability, respect, consistency, and openness to communication. By combining strong management skills with these leadership traits, companies can establish an organisational code of fairness and respect that permeates throughout the entire entity, fostering a climate of social responsibility and ethics.
Carroll's Pyramid of Corporate Social Responsibility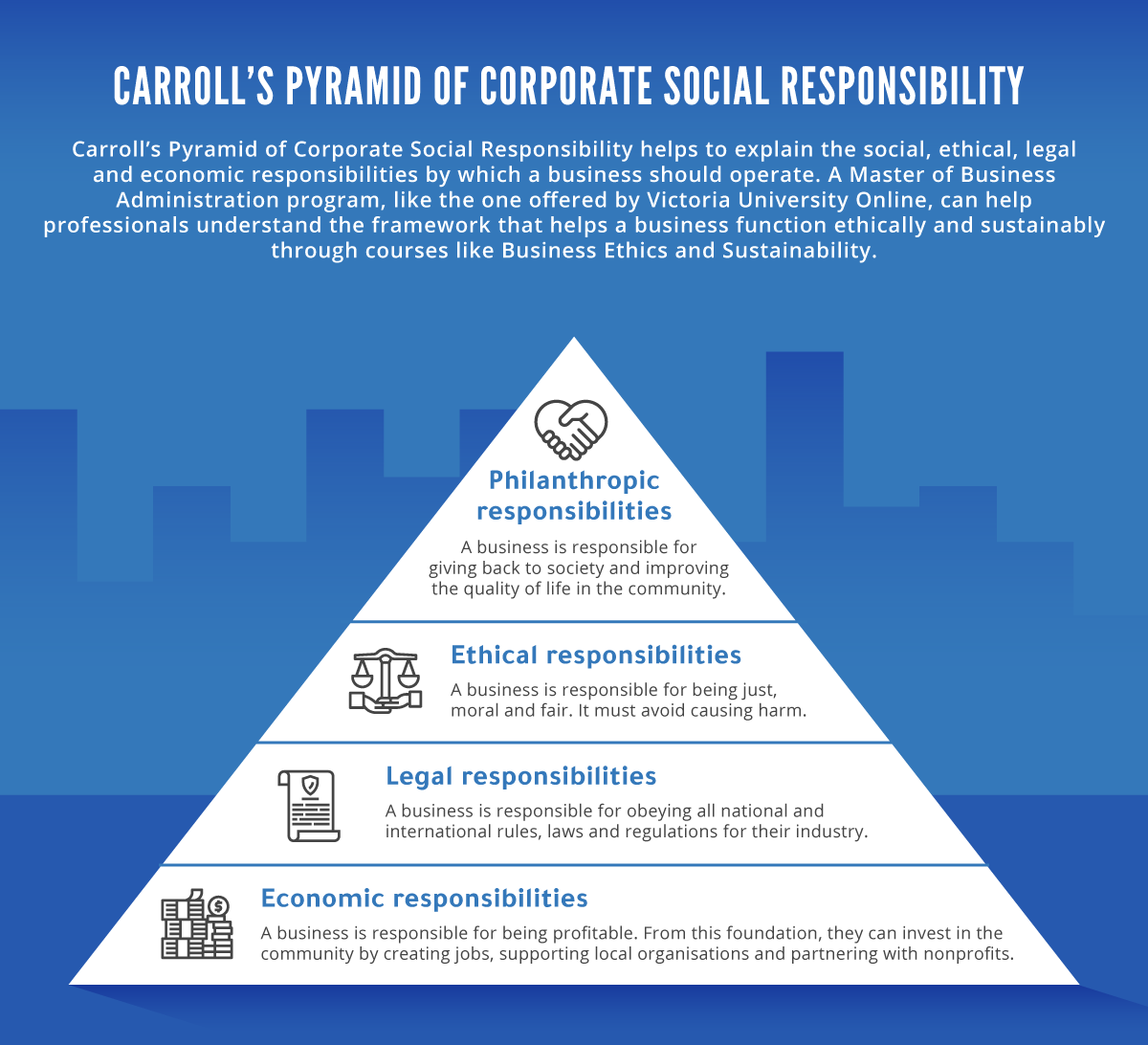 Carroll's Pyramid of Corporate Social Responsibility is a system that informs organisations about the responsibilities in businesses. This model consists of four levels: economic responsibilities, legal responsibilities, ethical responsibilities, and philanthropic responsibilities. Let's see how these responsibilities connect with leadership and management.
Economic Responsibilities
The leaders and managers make strategic decisions to drive financial growth. This ensures the organisation's stability. They effectively manage resources and allocate funds wisely. Leaders and managers work together to focus on revenue generation to fulfil economic responsibilities for the good of the organisation.
Legal Responsibilities
Leadership and management play a crucial role in ensuring companies are legally compliant. They establish ethical guidelines to promote responsible behaviour. They together create policies to abide by laws and regulations. Managers enforce these rules throughout the organisation.
Ethical Responsibilities
Leadership and effective management are intertwined with the organisation's ethical responsibilities. Leaders act as role models. They maintain the integrity by making ethical choices. They foster a culture of transparency and hold employees accountable. Managers translate these standards into daily operations. They also contribute to creating an ethical work environment. They encourage employees to make ethical decisions.
Philanthropic Responsibilities
Leaders and managers contribute to philanthropic activities within the organisation. They support social causes by encouraging corporate charity and collaboration. This act fosters strong community partnerships. Managers coordinate these volunteer programs and facilitate fundraising. They also ensure these philanthropic efforts align with the organisation's mission and values.
By integrating these four responsibilities into their practices, leaders inspire employees to develop social responsibility. They cultivate a culture where making a positive impact is encouraged. With such novel actions, these responsibilities become an integral part of the organisation's values and operations. Effective leadership and management ensure that these responsibilities are not just words but are actively practised and embedded in the organisation's strategies and daily activities.
CSR Nurturing Leadership and Effective Management in Walt Disney Company (Example)
The Walt Disney Company consistently excels in implementing CSR initiatives. With a firm belief that anything associated with the Disney name carries a sense of responsibility, the company places great emphasis on acting responsibly and continuously explores innovative approaches to minimise its environmental footprint.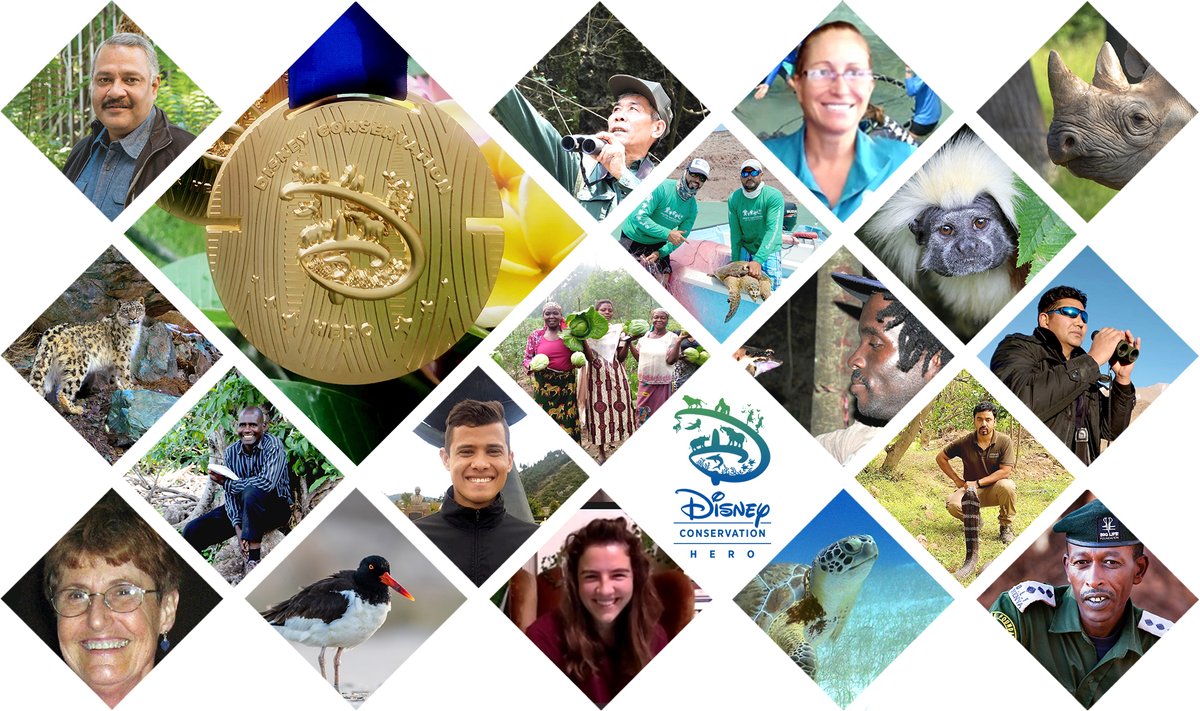 Disney has established clear environmental targets and remains dedicated to their achievement. Among the notable CSR endeavours undertaken by Disney are:
Mitigating Environmental Impact: Disney actively reduces its ecological footprint by operating resort trains that run on biodiesel derived from recycled cooking oil.
Preserving Endangered Wildlife: Through dedicated conservation projects, Disney contributes to the growth and preservation of at-risk wildlife populations.
Supporting Environmental Conservation: The Disney Conservation Fund extends grants to nonprofit organisations committed to environmental preservation, recognising, and fostering their invaluable efforts.
By upholding such initiatives, The Walt Disney Company exemplifies the fusion of leadership, effective management, and corporate social responsibility.
Conclusion
In conclusion, corporate social responsibility (CSR) has a deep impact on leadership and effective management within organisations. By embracing CSR initiatives, leaders can inspire their teams and foster ethical decision-making to create a culture of social responsibility.
Through economic, legal, ethical, and philanthropic responsibilities, leaders and managers can drive positive change. This will bolster the impact on the environment, society, and stakeholders. Furthermore, integrating CSR into leadership and management practices not only enhances a company's reputation but also attracts top talent, decreases risks, and ensures long-term sustainability.
Where Can You Find Leadership and Management Course
You can find the best Leadership and Management Course at SIT (Stanford Institute of Technology). We offer Diploma, Advanced Diploma and Graduate Diploma in Leadership and Management. To know more click here.